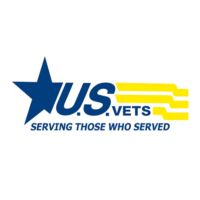 Although Arizona continues to lead the nationwide fight to end homelessness, statistics estimate that over a million United States Military Veterans continue to struggle with combat-related disabilities, hindering many from successfully transitioning back into society. Fortunately, the Phoenix area community continues to rally around our serviceman in need.
Organizations such as the United States Veterans Initiative (U.S.VETS-Phoenix) help lead the charge to assist these brave men and women reacclimate back into civilian life. Their residential facility, the Grand Veterans Village, currently houses 200 and serves over 1,200 veterans through their many programs each year. U.S. VETS-Phoenix's mission is to offer homeless veterans the fundamental resources they need to rebuild their lives and become self-sufficient in the long-term. Some of their onsite programs include: safe housing, meals, life skills development, transportation to medical appointments, mental health counseling, as well as employment training and placement.
In an effort to offer these life-altering services to even more deserving Phoenix-based veterans in need, they decided to tackle their inability to cost-effectively provide 300+ meals a day. Unfortunately, the current facility is not equipped with a commercial kitchen, requiring the food to be catered at a much higher price. The annual cost of these meals, not including the generous donations of local church groups, averages $900,000.
This financial drain negatively impacts their ability to provide other imperative programs. A factory-built kitchen is estimated to save over $270,000 annually, allowing them to provide additional services to approximately 157 more veterans. Unfortunately, the property owners where U.S. Vets-Phoenix resides were not willing to fund a kitchen unit, leading them to explore other options by reaching out to the community for donations.
Several partnerships ensued, collectively providing generous assistance. RJ Russo provides factory-built buildings which are approved by the Arizona Department of Housing (M-9A license/classification) and are fully permitted. The company greatly reduced the cost of their factory-built kitchen by $50,000, donated architect services for plan approval with City of Phoenix and is providing delivery and installation at no additional charge.
As is typically the case with most successful philanthropic endeavors, it takes a village. This project came to life because of the generous donation of $65,000 from Honeywell, as well as additional assistance from The Veterans Project, Wilson Electric, National Guard Engineer Battalion, and individual donors.
Want to thank our vets for their service? Join us in providing our deserving Phoenix area vets with warm, healthy meals prepared onsite.
If you are an interested donor or have questions please direct them to Michelle Jameson-Executive Director of U.S.VETS at 602-501-5548 or mjameson@usvetsinc.org. Or Kelly Watson-President of Rebuilding Together Valley of the Sun at 480-774-0237 or kelly@rtvos.org.