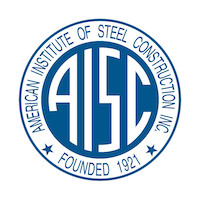 Last month, we honed in on the importance of gaining an AISC Certification. The American Institute of Steel Construction (AISC) was founded in 1921 to better serve the interests of the structural steel design industry and leads the way in the steel fabrication and erection industry with Research, Development, and Education.
In simpler terms, AISC better services the construction industry as a whole. For nearly 100 years, AISC has been an advocate and resource for the American structural steel industry. Breakthrough research and technology have helped fabricators, architects, and engineers deliver the highest quality products to clients.
We're AISC-Certified!
Why is this so important? Because an AISC certification ensures the highest quality materials, the best safety procedures, and the most accountability on a project. And now, RJ Russo can deliver you that quality with the guaranteed backing from AISC.
The program requires us to be accountable in every part of our organization, from fabricators to erectors and everything in between. Trust RJ Russo with your next project, knowing we're AISC-certified and can provide you with your desired level of quality from the start of each and every project.
The Benefits of AISC Certification
As we stated last month, an AISC certification promotes and ensures precision, training, and accountability that support the quality, safety, and accountability of your project. Learn more about the benefits now:
Quality: We're held to a higher standard to comply with codes and practices
Safety: Higher-quality training ensures fewer worksite accidents and other product failures
Accountability: Our fabricators and erectors are subject to audits and physical inspections
An AISC certification isn't just lip service. It's a set of stringent guidelines that the standard, allowing us to deliver high-quality projects for our clients. RJ Russo looks to maintain both an innovative and competitive company in the construction industry, and our AISC certification allows us to do just that.